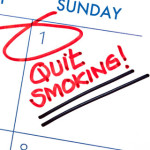 The New Year brings reflection on our lives and the personal changes we can make to feel better.
Quitting smoking tops the list of New Year's resolutions—and for good reason. Tobacco use remains the single largest preventable cause of disease, disability, and premature death in the United States. Moreover, each year, about 70% of adult smokers in the U.S. report they want to quit completely.
You can make 2012 your year to be tobacco free, and in doing so make one of the most important steps in living a healthier life.
The science is clear—smokers who quit now greatly reduce serious risks to their health. Within a few hours of stopping smoking, the level of carbon monoxide in a person's blood begins to decline. Within a few weeks, people who quit smoking have improved circulation.  Within several months of quitting, people can expect substantial improvements in lung function.
Quitting smoking reduces the risk of cancer and other diseases, such as heart disease and chronic obstructive pulmonary disease (COPD), caused by smoking. People who quit smoking, regardless of their age, are less likely than those who continue to smoke to die from smoking-related illness.
As you make your New Year's resolutions, please consider the health benefits of living tobacco-free. If you use tobacco products, commit to becoming tobacco free. Encourage and support your friends and loved ones to use the resources below to set a quit date and quit.
What can you do to prepare?
Here are seven proven tips and resources from the American Lung Association that have helped thousands of people give up smoking for good:
Talk to your doctor or pharmacist about the various types of treatments and different over-the-counter and prescription medications that are available to help you quit smoking.
Look into the different options available to help smokers quit. Visit www.lung.org/stop-smoking or call 1-800-LUNG-USA (1-800-586-4872) for suggestions.
Take time to plan. Pick your quit date a few weeks ahead of time and mark it on the calendar. If you can, pick a day when life's extra stresses are not at their peak, such as after the holidays. Mark a day on the calendar and stick to it. As your quit day approaches, gather the medications and tools you need and map out how you are going to handle the situations that make you want to smoke.
Get some exercise every day. Walking is a great way to reduce the stress of quitting. Exercise is proven to not only combat weight gain but also to improve mood and energy levels.
Eat a balanced diet, drink lots of water and get plenty of sleep.
Ask family, friends and co-workers for their help and support. Having someone to take a walk with or just listen can give a needed boost.
You don't have to quit alone. Help is available online and in your community. Visit Ringgold County Public Health for a free quit kit and to get started on your quit plan today.
Make 2012 Your Year to Quit!
Free phone coaching is available by calling 1-800-QUIT-NOW or by visiting Quitline Iowa's webpage.
Learn more about making a resolution to quit smoking today.