Ringgold County Public Health (RCPH) is proud to announce the completion of a successful partnership with the City of Mount Ayr. New "way finding" signs were placed on a walking and biking route from the Mount Ayr Elementary School to Judge Lewis Park. The signs have motivational messages along with distances to the next destination at various spots along the route. For instance, the signs at the corner of Jefferson and Lincoln Streets (the Family Resource Center intersection) read: "1 mile to Judge Lewis Park: 20 minutes via walking, 6 minutes via bike."  The sign also has a message for kids and parents about the health benefits of walking and biking.
The signs were designed to encourage more walking and biking but have a nice side benefit of marking a safe route for children to use when traveling from the school to the park. The route runs along Jefferson Street, through the business district and downtown, and then heads west on Madison Street towards the park.
National Bike and Walk to School Week is in early May.  Local organizations have joined forces and are planning an event on May 8, meeting at the park at 7:30 AM that morning. They will travel along the route marked by the signs to highlight it. Parents and grandparents are encouraged to consider joining their children, grandchildren or a neighborhood child for a walk or bike ride that morning. If you live in rural Ringgold County, leave your vehicle at the park and join from there. Diagonal will be holding their Bike and Walk to School event on May 9, starting from their city park also.
Mount Ayr City Superintendent Brent Wise believes the signs are a perfect addition to the community. Wise noted, "I have seen many people walking and riding bikes around town. I believe the walking/bike route is a great way to spend family time. The added perk is making exercise easier for people. I was able to spend time with Chris from RCPH touring the route to determine sign placement. It was a pleasure partnering with RCPH on this project.  The signs are now in place thanks to Cody Jay."
The signs were purchased with funds awarded to Mount Ayr through a Healthy Iowans Grant earmarked for promoting physical activity. Southern Iowa Council of Governments (SICOG) administered the grant, and funds were directed by a steering committee of local volunteers.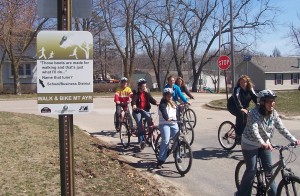 Mrs. Chandra Poore's class at Mount Ayr Community School has been getting some exercise by riding bicycles around Mount Ayr.  The new signs marking the route from the school to Judge Lewis Park help guide their route.  Pictured above are Billy Geer (student), Christi Shields (school staff), Brittani Bogan (student), Amanda Overholser (school staff), Jessica Fricke (student), Mrs. Poore, and Melody Davis (student).  Mrs. Poore says, "We love the signs.  You will see us using them often."
This activity is possible due to a collaboration of multiple funding sources.  The three-wheeled bikes were purchased with Special Education Funds.  The other bikes were purchased through Sites for Learning.  The helmets were made possible with a HELP Pod Grant.  The signage was part of a City of Mount Ayr Healthy Iowans Grant designed to promote physical activity.