Did anyone see a long parade of kids, parents, and community members biking and walking last week in Mount Ayr or Diagonal? You weren't seeing things. Those long lines of people having fun using active transportation — that is using our own two feet to travel — was in celebration of National Bike and Walk to School Week.  Many references were made to the event from local residents as they watched the processions of bicyclists and walkers, young and old, move through in a mass of active transportation not seen in Ringgold County for some time.  A Diagonal resident quipped, "Welcome to DiagBRAI!"  A construction worker arriving to start his work for the day on the Mount Ayr aquatic center asked with a smile on his face, "Is this the start of RAGBRAI?"
Kids were lined up at the city parks in Mount Ayr and Diagonal before 7 AM to receive a prize backpack, a bottle of water, and bananas supplied by Mount Ayr Hy-Vee.  The first to register at each location received the bike computers generously funded by donations from Lambs Children's Ministry of First Christian Church, Cunning Insurance Co. Inc., Shafer Insurance Agency, French Insurance Agency, Watson-Armstrong Funeral Homes, and PLAY Posse, Inc. The computers display a biker's current speed, average speed, top speed, and other info that add to the fun factor of riding bicycles.
Close to 90 people participated in the Mount Ayr event and over 50 came out in Diagonal. Karleen Stephens, Diagonal School Superintendent, reported over 80% of the elementary students participated. Mount Ayr Elementary Principal Chris Elwood was a strong supporter of the event and joined with his two children.
The Mount Ayr event also served to highlight the walking/biking route that was marked recently by the City of Mount Ayr with "way finding" signs. The signs mark a route from Judge Lewis Park to the elementary school that is a safe and convenient route for pedestrians. The routes in both towns also passed several bike racks that have been installed in the last year to support active transportation.
Mount Ayr and Diagonal Schools and Ringgold County Hospital worked together with Ringgold County Public Health (RCPH) to promote and coordinate the event.  Please join RCPH in saluting all the organizations and community members who made this fun event possible for our children.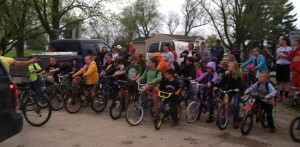 Diagonal bikers ready to head out!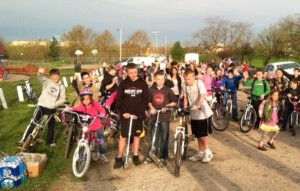 Mt. Ayr group at the bike route starting point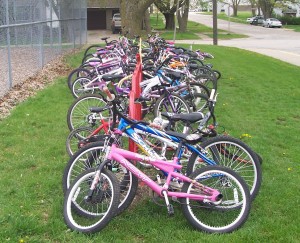 FULL bike racks!