Ringgold County Parents as Teachers (PAT) held a Family and Outdoor Fun event June 10 at Judge Lewis Park.  Thirty-three people from eleven families gathered for a meal and activities.  Each child was given an age-appropriate book to take home.  The door prize of 10 free admissions to Judge Lewis Park Pool went to Nathan and Wendy Creveling and their son Coy.
Parents and children enjoyed taking part in activity stations including Wet Footprints, Bubble Pipes, Milk Jug Ball Toss, and a Nature Scavenger Hunt.  Participating families completed annual surveys regarding program satisfaction and topics of interest for use in program planning for the coming year.
PAT provides family support home visits to Ringgold County families with children prenatal through age 3, sharing age-appropriate activities, developmental screenings, parental support, group connections, and assistance finding resources.  This service is provided free of charge to eligible families through Ringgold County Public Health (RCPH). The program, in its fifteen year, is funded by the merged Quad Counties 4 Kids Early Childhood Area, DEKKO Foundation and Prevent Child Abuse Iowa.  For more information, contact Robin McDonnell at Ringgold County Public Health 641-464-0691.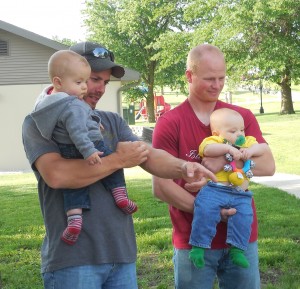 Two of the dads who attended the Family Fun Night were David Head with his son Kasen, and Nathan Creveling with his son Coy.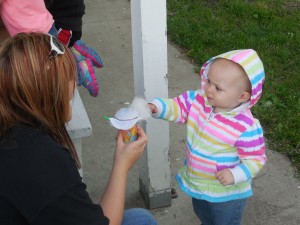 Shayna Mason helped her daughter Kaydence discover the feel of bubbles.